1987: Suspicion (TV) --------------------Mr. Benson
1988: Journey's End (TV) ----------------Captain Stanhope
1988: Piece of Cake (mini TV Series) ----'Fitz' Fitzgerald
1988: Agatha Christie's Poirot -Dead Man's Mirror
1991: A Fatal Inversion (TV) ------------Rufus Fletcher
1992: Wuthering Heights -----------------Hindley Earnshaw
1994: A Village Affair ------------------Anthony Jordan
1995: Voices From a Locked room-----Phiilip Heseltine/Peter Warlock
1995: The Net ---------------------------Jack Devlin
1995: Carrington ------------------------Beacus Penrose
1996: Emma ------------------------------Mr. Knightley
1997: Mimic -----------------------------Peter Mann
1997: Amistad ---------------------------Judge Coglin
1997: The Misadventures of Margaret -----Edward Nathan
1998: The Tribe (TV) --------------------Jamie
1998: Gloria ----------------------------Kevin
1999: The Winslow Boy -------------------Sir Robert Morton
1999: Ideal Husband, An -----------------Sir Robert Chiltern
1999: Happy Texas -----------------------Harry Sawyer
2000: Golden Bowl, The ------------------Prince Amerigo
2001: Possession -----------------------Randolph Henry Ash
2001: Enigma ---------------------------Wigram


New Release
(2000, The Golden Bowl)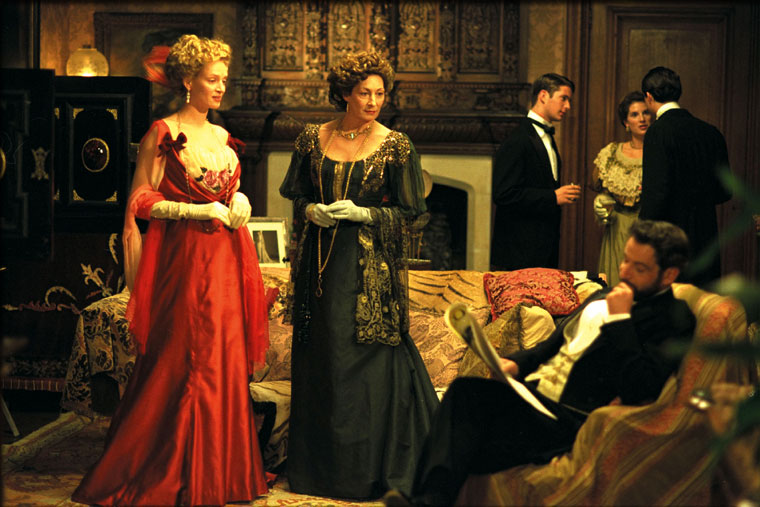 Maggie: (Crying out in pain) You pretended to love me - (overriding his protest) And you pretended to love him ... Why did he marry? Why did he? It was good before, with only the three of us, and then our boy. We none of us needed her. Unless you did.

Prince: It's you I need and more than ever now.

Maggie: You mean now that I know and have to shield you and Charlotte both? ... But it's not you I have to shield.

Prince: Has he said anything?

Maggie: To me? Father would die first.... His wife would know better than I. You must ask her.

Prince: (With an impatient, dismissive gesture) As if I would.

Maggie: But don't you ask her everything? Haven't I seen you both ... arranging together?